Home
October 12, 2016
New Exciting Halloween Promotion
My book Red Riding Hood: Claimed on All Hallows Eve will be in part of a Halloween erotica promotion from October 28. More details in the last week of October.
October 1, 2016
The Naughty List Multi-Author Bundle
This is a very exciting!
My book, Rapunzel's Afternoon Pleasure, is featured in a multi-author bundle titled Never Enough: Volume 2: Gay Erotica Collection presented by The Naughty List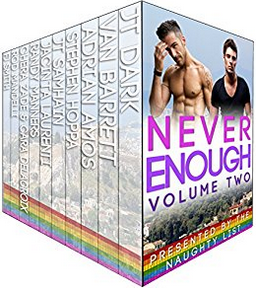 You always want more. It's Never Enough.
That's ok. We feel you. Join us with this hotter-than-hell, 10 book gay erotica collection from The Naughty List.
Ten bestselling or up-and-coming authors will show you the way with smoldering stories packed full of man on man action and lesbian tales featuring women pleasuring each other in ways that will make your mind twist and your heart pound like you wouldn't believe.
There's more than 85,000 words to keep you busy, but we'll get started on the next volume right now anyway because, we know…there's Never Enough.
Featuring:
Chamber of Endurance
(Book One: Seduction)
By J.T. Dark
Bad Roommate
By Van Barrett
Conquered by My Sorority Rival
By Adrian Amos
Double Teamed by the Bull Riders
By Stephen Hoppa
On Your Knees
By J.T. Samhain
Rapunzel's Afternoon Pleasure
By Jacinta Laurenti
Shared with the Neighbors
By Randy Manners
The Stable Hand's Submission
By Chera Zade & Cara Delacroix
A Patrick on a Bear's Knee
By Rod Mandelli
Initiated on Video
(Book One: Claimed)
By F.J. Smith
The bundle is available here https://www.amzn.com/B01LXDYHBL for 99c or free with Kindle Unlimited.
September 2, 2016

New Exciting Promotion
September 2nd-5th
This Labor Day weekend I am joining 12 other authors for an exciting promotional opportunity. During the four-day period, selected books will be either discounted or free.
Here are the participating authors and the links to their books.
Happy Labor Day
1)   Ciara Bane (Gay Erotica)
An Officer's Surrender: An M/M Erotic Short ($0.99)
https://www.amazon.com/Officers-Surrender-Erotic-Short-Boys-ebook/dp/B01J6O6FCC
2)   Lynda Belle (Scottish Historical Erotica)
Highlander Bride Taken (Free)
https://www.amazon.com/Highlander-Bride-Taken-Scottish-Erotic-ebook/dp/B00UUM9YFA
Seduction Of A Highlander ($0.99)
https://www.amazon.com/Seduction-Highlander-Erotic-Tale-Tales-ebook/dp/B01K8YEMU6
3)   Ines Johnson (Interracial Erotica)
Cruise Control ($0.99)  *** Free from Sept 3***
https://www.amazon.com/Cruise-Control-Watchers-Crew-Johnson-ebook/dp/B013O5I2FC
4)   Jocelyn Dex (Erotic Paranormal/Fantasy Romance)
Araya''s Addiction ($0.99)
https://www.amazon.com/dp/B01J9C5COS
Gettin' Lucky with a Leprechaun ($0.99)
https://www.amazon.com/dp/B01A9S44A4
5)   Janet Lynn (Paranormal Erotica)
Claimed by the Leprechaun: A Paranormal Monster Erotica ($0.99)
https://www.amazon.com/dp/B01D3M3E0E
Fur Part I: A Stepbrother Werewold Romance (FREE)
https://www.amazon.com/dp/B01CZ2FA0U
6)   Nikki Solo (Alpha Male Voyeurism/Public Sex)
Public Pleasures: Three Tales Of Women Getting Off In Public Places ($0.99)
https://www.amazon.com/dp/B01J07SAI2
7)   Candy J. Starr (Billionaire Erotica)
Snatched Part 1 ($0.99)
https://www.amazon.com/Snatched-Part-Gothic-Billionaire-Romance-ebook/dp/B01D5NYKM2
8)   Veronica Cane (Mafia Erotic Romance)
Suede ($0.99)
https://www.amazon.com/dp/B01L02RB5I
Jordan's Quest ($0.99)
https://www.amazon.com/dp/B01ED79LLE
9)   Jacinta Laurenti (Erotic Lesbian Fairy Tales)
Red Riding Hood After Dark (FREE)
https://www.amazon.com/Riding-After-Erotic-Lesbian-Fairy-ebook/dp/B01KIHJMDU
Briar Rose''s Morning Blues (FREE)
https://www.amazon.com/Briar-Roses-Morning-Erotic-Lesbian-ebook/dp/B01KIGWUGM
10)    Cordova Skye (Fantasy Erotica/Breeding)
The Forest God's Rite ($0.99)
https://www.amazon.com/dp/B01L7V1BV2
11)    Meg Xuemei X (Erotic Romance)
The Empress of Mysth 1: Angel's Lust ($0.99)
https://www.amazon.com/dp/B01GQNMOB2
12)    Reyna Talbot (First Time Lesbian MILF)
Banging My Boyfriend's Mom: A First Time Lesbian MILF Story ($0.99)
https://www.amazon.com/dp/B01HQU6BHM
13)    Katy Baker (Erotic Romance)
At The Party (My Best Friend's Father Bk 1) (FREE)
https://www.amazon.com/Party-Erotic-Romance-Friends-Father-ebook/dp/B00BODFQ2Y