Down & Dirty: Erotic Lesbian Fairy Tales
Down & Dirty With Snow White
An unmarried princess, bored with bedding the same woman, is intrigued by an invitation. Princess Bettina, once known as Snow White, accompanies her brother's wife on a journey, and the host is every bit as enchanting and enticing as in their brief meeting some time ago.
Baroness Eugenie teases and provokes her guest, but Bettina is no innocent maiden. The baroness' boudoir, a serene escape from daily life, transforms into a bawdy bedchamber as the women arouse and seduce one another. But before their sizzling encounter is over, Eugenie has a surprise for the princess. Food and fantasy combine in a way that astonishes Bettina but produces a ravenous hunger deep within her.
What melts in the mouth and teases the tongue but heats up the bedchamber?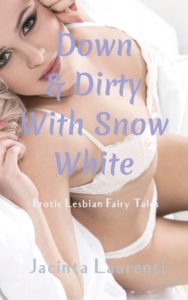 Down & Dirty With Rapunzel
A queen must be:
a) demure?
b) responsible?
c) hardworking?
d) regal?
Rapunzel is all of those things—in public—but her desires are as fervent as they ever were.
When she stumbles upon a stranger named Luna in her hideaway, she is overcome with longing, and yet she forces herself act like a sovereign and leaves. But desire overcomes propriety and duty. She takes Luna in the tiny cottage, and they spend passion-filled hours together.
Later, in the great hall, before the domain's nobility, Luna pleasures her majesty in hiding but in full view. But does Luna's trickery leave Rapunzel more vulnerable than before…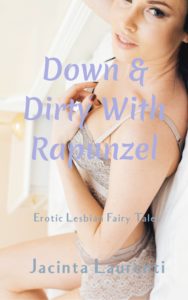 Down & Dirty With Rose Red
A solitary walk in the woods turns into a not-so-solitary steamy romp in the bedchamber with women who are not what they appear to be!
But first, Rose's musings about bedding her servants are so heated and euphoric, she races into the forest and pleasures herself on the soft mossy ground. Later as she bathes in a lake, the seething water transports to her another-worldly realm—but one with familiar faces.
There is no time for conversation or tea. Rose is naked, and her companions are desperate for a conquest. A blistering heat and desperate thirst consumes Rose as she witnesses and participates in a frenzied tryst with the other women. But at the end, does she wish to return home or…?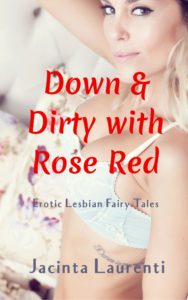 Down & Dirty Erotic Lesbian Fairy Tales
One noblewoman. Two royal women. Three steamy seductive liaisons.
These women hide their feelings from the outside world and only reveal their true selves when they discard their clothes. They're innocent on the outside and filthy within.
What they crave is fulfillment and in the boudoir, they arouse, tease, demand and ravish as they take the women who excite them. Whether entangled with magic or bedding a mortal, the heat they produce sizzles and scorches as they seek gratification any way they can get it.
The books in this bundle are:
Down & Dirty With Snow White
Down & Dirty With Rapunzel
Down & Dirty With Rose Red