Erotic Lesbian Fairy Tales Vol. 2
Rose Red In A Bed Of Thorns
All is not what it seems in Rose Red's world. A nocturnal visitor, a magic spell, a transformation and surging emotions change her forever. She transitions from her poor, but simple life as a seamstress to one of luxury in a powerful princess' realm. There she is known as Rose. But what is she to do all day? No work. Just play. And longing. Insatiable longing. Longing for the one in front of her. Longing for the one who cannot see her. Until she does. And then it becomes delightful, delectable, delicious and very dirty.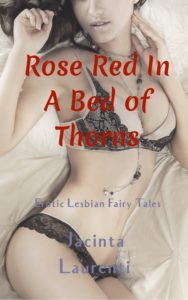 https://www.amzn.com/B01KWAJOWC
Gretel's Lost Innocence
Gretel got rid of the wicked witch and Hansel ran away home. So what's she to do with all the treasure? Buy land. Build a big manor house. Hire servants. Be rich, but also be very lonely. Until one night, there's a knock at the door. A curse is broken and a ravishingly beautiful stranger appears before her. One long lonely night becomes an evening of awakenings, arousal and ecstasy. Gretel greets the dawn a different person from the one who went to bed the night before.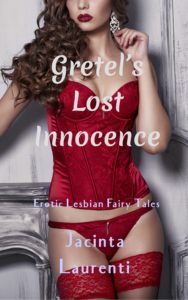 https://www.amazon.com/B01KY97CIE
Cinderella's Roll In The Hay
Poor Cinderella. She has one amazing night of glamour at the ball and goes back to a life of drudgery amongst the cinders. But she witnesses something in the barn. It's shocking. But not as shocking as what happens next. A nap in the sweet-smelling straw becomes a tumble in the hay. From the barn to the bedroom, from dusty to delectable, from innocence to power, Cinderella takes control. It's a wild ride, but along the way, she and her lover share a euphoric experience and Cinderella discovers her destiny.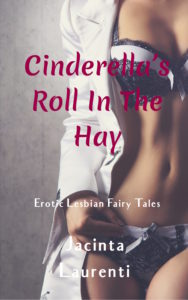 https://www.amzn.com/dp/B01LDCUSEQ
Erotic Lesbian Fairy Tales Vol. 2
Spells. Sorcery. Treasure. Transformation. Rose Red, Gretel without Hansel and Cinderella. Three strong sexy ladies have their lives turned upside down when things are not what they appear to be, and their dirtiest naughtiest fantasies become reality. They discover passion, ecstasy and euphoria, and along the way they learn to tease, tantalize and titillate as they forge their own destinies.
The books in this bundle are:
Rose Red In A Bed Of Thorns
Gretel's Lost Innocence
Cinderella's Roll In The Hay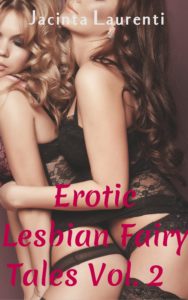 https://www.amzn.com/B01LLYMCU4