Erotic Lesbian Fairy Tales Vol. 13
Three Stories with a Christmas Theme

Cinderella Unwrapped
What do these three things have in common?
A coronation.
Yuletide celebrations.
A very public seduction.
Answer: Cinderella.
It's Christmas and Princess Ellia, formerly known by the cruel nickname, Cinderella, and her children are celebrating the festival along with the enthronement of a new king. But amongst the guests is one who has her eye on the princess. And she doesn't wait for privacy. She doesn't need a bedchamber. Instead, she takes what she wants in the great hall during a banquet. While the other guests are drinking and eating, Countess Bianka is feasting, and Ellia loses her senses. Does Ellia crave more from the countess or is one escapade enough?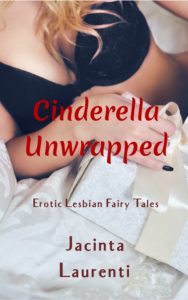 https://www.amazon.com/dp/B01N49LYNK
Rose Red & The Gift of Giving
Holly berries. Bunches of plump scarlet morsels weigh down bushes in the snow-covered forest. Rose Red is searching for the berries to decorate the Yuletide table, but she is discovered by an old enemy who whisks her away to his mistress' domain. Once there, Rose is confronted by a powerful empress. No time is wasted on pleasantries, and their encounter is sizzling, wicked and filthy. While magic plays no part in their confrontation, Rose is most definitely enchanted. Will she make her way home or is she lost forever? And does she care?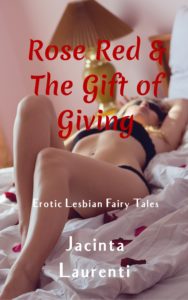 https://www.amazon.com/dp/B01N6CVNOU
Rapunzel Decks The Halls
A swirling mist descends on an imprisoned Rapunzel as she is transported to a forbidding castle set high on a cliff. Dry bread, moldy cheese and a freezing turret await her. But into this grim setting comes an enchantress intent on making the princess hers and hers alone. Whisked away to more luxurious surroundings, Rapunzel has a sizzling encounter with the stranger where the princess is both docile and disobedient. Will the Princess Rapunzel find her way home? And does she want to?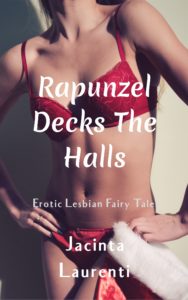 https://www.amazon.com/dp/B01MYYK6IB
Erotic Lesbian Fairy Tales Vol. 13
'Tis the Yuletide season when snow, mist and magic spiral across the landscape creating havoc. Princesses and consorts are caught up in the maelstrom while witches (as well as a bored countess) cause chaos for their own selfish purposes. But all is not as it seems. Three seductive heroines share an insatiable longing and satisfy their most primitive urges while being both wanton and innocent. The bitter outside temperatures do nothing to diminish the blistering heat within, and their steamy escapades add a tantalizing element to the festive season.
The books in this bundle are:
Cinderella Unwrapped
Rose Red & The Gift of Giving
Rapunzel Decks The Halls