Erotic Lesbian Fairy Tales: Character Bundles
The Red Riding Hood Bundle
These tales are hot. Steamy hot. Sizzling hot. Blistering, scorching hot. If that's what you're into, read on.
Red Riding Hood – or to use her proper name, Serafine – does not stray far from home as she progresses from a young woman about to be married, to a lover, a wife, a seamstress, a mother and a widow. And yet her journey is anything but ordinary.
Her shifter lover, Isolde schools her in the ways of love and then leaves her fearful their relationship puts Serafine in danger. In the years after Isolde disappears, Serafine becomes entangled with enchantresses and noblewomen. Their encounters are frenzied and filthy, and they take place in woodland cottages, magical realms and in the midst of war.
Until she meets her destiny. One that she cannot seduce. One that she cannot avoid. One that she must accept.
The books in this bundle are:
Red Riding Hood After Dark
Red Riding Hood Before Dawn
Red Riding Hood: Claimed on All Hallows Eve
Red Riding Hood Jingles Through The Snow
Red Riding Hood Unmasked
Red Riding Hood Unadorned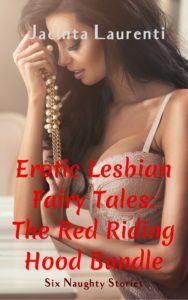 The Rose Red Bundle
Crimson. Scarlet. Ruby. Rose. Shades of red and the color of passion, heat and desire.
Rose Red begins her life as the daughter of a seamstress, and she learns the sewing trade from her mother. But she is flung into a life of grandeur when she lifts a spell from Princess Saskia. From that moment, she lives in a castle where her every whim and desire is catered to – including her yearning for the princess herself.
In public and in the boudoir, by themselves or with a third partner, Rose and Saskia's passion seethes and surges as they are consumed by raw insatiable lust.
And yet as content as she is with Saskia, Rose is not afraid to look elsewhere for titillation. Whether it involves magic or mortals, she explores her primeval urges and fulfills her desperate cravings.
The books in this bundle are:
Rose Red In A Bed of Thorns
Rose Red: Charmed on All Hallows Eve
Rose Red's Naughty Exploits
Rose Red & The Gift of Giving
Rose Red Unveiled
Rose Red Unadorned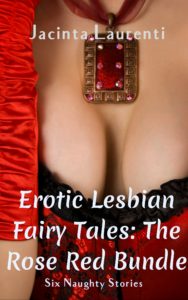 The Briar Rose Bundle
Princess Briar Rose sleeps for 100 years. And when she awakes, she's desperate.
Not for food.
Not for her fairy godmother.
Not for a husband – she knows she has to marry the handsome prince.
She needs someone in her bed.
And her bath.
And the throne room.
And an enemy's castle.
And she claims them all – servants, royalty, noblewomen, sorceresses.
Through she marries and has children, the years do not dampen her desires, her insatiable cravings and her burgeoning lust.
The books in this bundle are:
Briar Rose's Morning Blues
Briar Rose: Taken on All Hallows Eve
Riding High With Briar Rose
Briar Rose's Enchanting Valentine Visitor
Briar Rose Trims the Tree
Briar Rose Unadorned