Free Lesbian Fairy Tales
Infatuated with Cinderella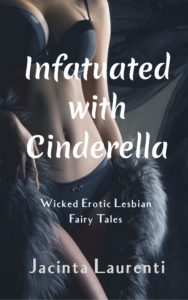 If you're looking for a Cinderella story with cruel stepsisters and a handsome prince, this is not for you. This is not THAT story.
Instead, this is about Princess Ellia who was known as Cinderella in her youth. The princess is swept away by a breeze and ends up where she began. Or does she? Confused? So is she.
Reality becomes fantasy, and into that fantasy comes a stranger. Someone who has waited centuries for Ellia. That someone is Luzia, an enchantress who removes the princess' inhibitions just as she undoes the ribbons on her gown: slowly, purposefully, seductively and passionately.
Whether it's during a tumble in the hay or a stroll in the garden, Luzia and Ellia's tale tantalizes and sizzles, and it embraces its salty, spicy flavors as Ellia relishes her naughtiness and the journey that brings her full circle.
Taken by Briar Rose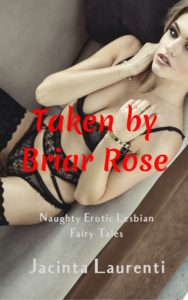 A charming princess. A gorgeous sorceress. A missing prince. What could go wrong?
Roused from sleep, Princess Briar Rose learns of her husband's capture. After hustling a woman from her bed, she hatches a scheme to save her spouse and travels to a ruined castle to carry out her plan. But things go awry when Sissi, a stunning enchantress, appears and takes advantage of and provokes the dispirited princess.
A bleak dungeon transforms into a luxurious love nest, with a warm fire crackling in the hearth and a feast of food and wine for her ladyship to devour. The princess resists Sissi's advances but once she learns the prince is safe, Rose cannot ignore her arousal.
Clothes are shredded and discarded as a hunger ignites deep within the princess. Sissi gives Rose what she craves and the two produce a blistering heat that tantalizes and consumes them.
But before the lovers part, Rose's secret is revealed and Sissi has her world upended.