Erotic Lesbian Fairy Tales Vol. 1
Rapunzel's Afternoon Delight
Rapunzel and the witch. You know the story, right? Long hair. Prisoner. Tower. Wicked witch. Wrong! The Princess Rapunzel is married to a handsome prince, but she doesn't have her happy ever after. Instead of being pleasured by her husband, the princess has taken a lover. She's getting wicked with the witch, Gisela! They meet in that tall, deserted tower, and their affair is delicious, decadent and very, very dirty.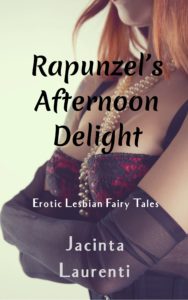 http://amzn.com/B01KATOHV8
Red Riding Hood After Dark
A deep dark forest. Danger lurking behind every shadow. A heart pounding as evil approaches. A grown up Red Riding Hood, now known by her proper name of Serafine, has heard the tales of what skulks in the woods. After a terrifying encounter, all is not what it seems. A ravishingly naked woman steals her heart and the two spend one night in a cottage hidden by the tall trees. By the time the dawn breaks, fear has been replaced by passion. And Serafine has experienced an unforgettable night of ecstasy – with the name of her lover, Isolde, on her lips.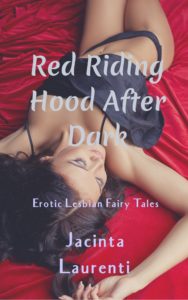 http://amzn.com/B01KIHJMDU
Briar Rose's Morning Blues
The only thing more boring than a 100-year nap is a prince who needs to be wed. Briar Rose wants nothing to do with a drunken fool who wishes to marry her. Instead, she has her eye on someone else. And this someone is in her chamber every morning. And every evening. She helps the princess bathe. She helps her dress. She puts her to bed. Hidden in plain sight, the princess and her new lover embark on tempestuous pre-wedding antics that include bath time for two, a naughty roll in the hay and a long night of passion. It's just what the princess craves before her date with destiny.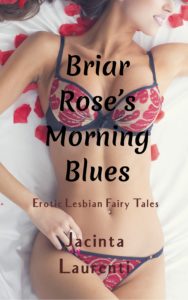 Erotic Lesbian Fairy Tales
A gorgeous, not so wicked witch in an abandoned tower. A stunningly sexy shifter in a secluded cottage. An alluring widowed servant in a princess' chamber. Three steamy books. Three sizzling trysts. Three strong sassy women. Rapunzel, Red Riding Hood and Briar Rose ignore drunken unfaithful princes and one indifferent woodcutter to take control of their own destiny. They follow their desires and live out their wildest naughtiest fantasies.
The books in this bundle are:
Rapunzel's Afternoon Delight
Red Riding Hood After Dark
Briar Rose's Morning Blues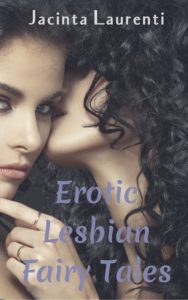 https://www.amzn.com/B01KPGFNLO/