Erotic Lesbian Fairy Tales Vol. 10
Riding High With Briar Rose
With an approaching wedding, the castle is full of visiting royalty including the stunning bride-to-be. Briar Rose is intrigued by the bride – Princess Verena – especially after she witnesses the royal and a maid in a secret rendezvous. Rose believes her spying has been done in secret but she's been found out, and Verena confronts her. In her chamber. At night. Just the two of them. Use your imagination and visualize what two princesses who have an insatiable longing get up to during one long night. Here's a hint – it's hot and dirty.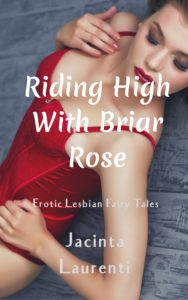 https://www.amazon.com/dp/B01MQI01KL
Briar Rose: Taken on All Hallows Eve
Magical. Mysterious. Mesmerizing. Princess Briar Rose's venture into an otherworldly realm is a formidable one where she discovers a woman like no other. Cyrene, as the woman is known, is on earth for one day to claim what is rightfully hers. And to her astonishment, this is what Rose has been craving. No puny drunken prince for her. She's been desperate for a real lover who can ascend with her to heart-stopping heights and get down to the dirty depths. Join them on All Hallows Eve and maybe you'll discover what you've been lusting after.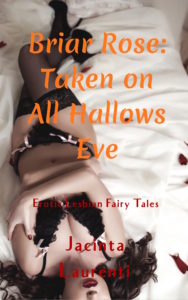 https://www.amazon.com/dp/B01M3Q1XBE
Briar Rose's Morning Blues
The only thing more boring than a 100-year nap is a prince who needs to be wed. Briar Rose wants nothing to do with a drunken fool who wishes to marry her. Instead, she has her eye on someone else. And this someone is in her chamber every morning. And every evening. She helps the princess bathe. She helps her dress. She puts her to bed. Hidden in plain sight, the princess and her new lover embark on tempestuous pre-wedding antics that include bath time for two, a naughty roll in the hay and a long night of passion. It's just what the princess craves before her date with destiny.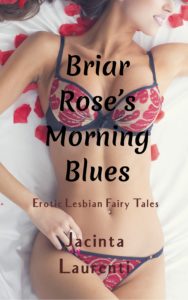 Erotic Lesbian Fairy Tales Vol. 10
What do a royal bride-to-be, a maid and an enchantress have in common? Princess Briar Rose. And no, they aren't mere acquaintances who bow as she passes. They have schooled her, got down and dirty and had their wicked way with her. And she loved every minute of it. So whether it's in the bath, the bed, another worldly realm or the darkest depths beneath the castle, Rose is greedy for more.
The books in this bundle are:
Briar Rose's Morning Blues
Briar Rose: Taken on All Hallows Eve
Riding High With Briar Rose