Erotic Lesbian Fairy Tales Vol. 6
Goldilocks: Taken By One Fair Lady
Goldilocks is naughty. Yeah, we know that. She ate the bears' porridge and broke their furniture.  Blah, blah, blah. No, that's another story. Now she's grown up and getting married to a handsome prince. And she's known as Rosaline. All her dreams have come true, but she wants more. And she gets it. She encounters the widowed Duchess Sophia who is dirty and dangerous, and they get filthy together under the noses of the assembled royalty. Will they be found out? Will Rosaline be banished from the palace? Read on and find out.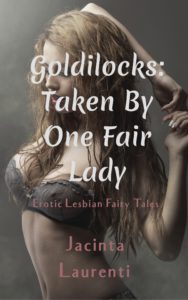 https://www.amazon.com/dp/B01LZ1F5XH
Goldilocks: Enchanted By Two Wicked Witches
Goldilocks is beginning a long and tiring journey, but it has nothing to do with nasty bears or disgusting lumpy porridge. She's supposed to rendezvous with her lover, Duchess Sophia, but she gets waylaid. Not by bandits or highwaymen, but by a ravishingly beautiful enchantress. But it gets better. There's not one sorceress, but two! Rosaline spends one enchanting night with the witches Sirene and Vixen, and they school her in the ways of love. Does Duchess Sophia discover her secret? Does she inform the king? Read on and find out.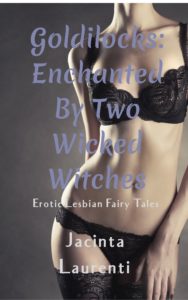 https://www.amazon.com/dp/B01M3NIT8J
Goldilocks: Charmed By Three Maidens
Not one maiden. Not two, but three fair maidens. And Goldilocks makes four! The wedding is looming, and Goldilocks, now known as Rosaline, escapes the prison that is the palace and takes off for pastures unknown. She craves excitement, and she will do anything to achieve her goal. What and who she discovers, and the games she plays, change her life forever. Accompany her on a journey that is steamy, sensual, sexy and very, very dirty.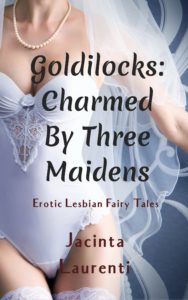 https://www.amazon.com/dp/B01MA276JQ
Erotic Lesbian Fairy Tales Vol. 6
You know the story of Goldilocks, right? Wrong. In this story there are no bears, no lumpy porridge and no broken furniture. Instead, there's Goldilocks, now known as Rosaline, or Rosa, Duchess Sophia, who Rosa spies on through a peep hole, two witches who captivate Rosa, and three not-so-innocent maidens who get naughty in public. Rosa transforms from naïve to experienced, from virtuous to wicked and from pure to filthy. And the journey is dirty, indecent and decadent.
The books in this bundle are:
Goldilocks: Taken By One Fair Lady
Goldilocks: Enchanted By Two Wicked Witches
Goldilocks: Charmed By Three Maidens