Erotic Lesbian Fairy Tales Vol. 12
Three Stories with a Thanksgiving Theme
Snow White Gives Thanks for Small Mercies
We all know the tale of Snow White, right? Evil enchantress. Poisoned apple. Amiable dwarfs. Handsome prince. Woken with a kiss. Are you still with me? But THAT story is not THIS story. Snow White has been rescued, she's back with her loving family and is a homebody. Late one afternoon something unexpected happens. An old fruit seller appears at the castle and brings back memories for Snow White whose proper name is Princess Bettina. During a celebratory banquet for Bettina's brother, the princess is captivated by a ravishing stranger. But before dawn breaks, Bettina's life has been turned upside down, and she has been schooled in the ways of love. One frenzied wicked encounter leaves her most definitely thankful.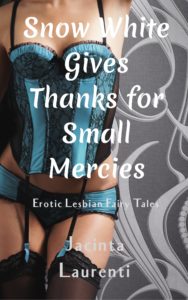 https://www.amazon.com/dp/B01N1GV61K
 Snow White Gives Thanks for Small Blessings
Blessings and curses. Goodness and evil. Fervor and indifference. Snow White has endured much in her young life. And she is grateful for the riches and contentment her position and family offer her. Unbeknownst to the Princess Bettina, for that is Snow White's real name, she craves more than her blessed yet boring existence. But all that is about to change as destiny calls. The princess' dreams sweep her away for a steamy, sensuous lust-filled afternoon. Is it a dream or reality? Read on and find out.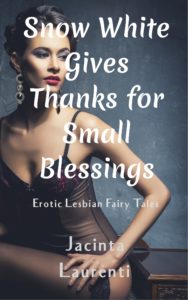 https://www.amazon.com/dp/B01MSQDW9O
Snow White Gives Thanks & Much More
Winter. Desolation. Prison. Princess Bettina, who is known to her family as Snow White, is being held captive. Instead of being a princess of the realm, she's locked in a freezing tower, wears threadbare clothes and is separated from her family. But the new queen, consort of the usurper Bruno, has been fascinated with the princess for years. One dark wintry evening Queen Marta commands the princess' presence and Bettina is fearful for her and her family's safety. But instead of harming her, the queen schools the princess in ways she could never imagine. One night in the consort's chamber discloses secrets Bettina has never dared reveal – even to herself.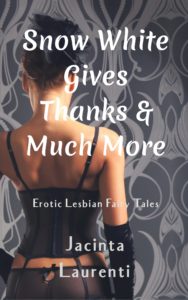 https://www.amazon.com/dp/B01N47VRTZ
Erotic Lesbian Fairy Tales Vol. 12
How would you describe Snow White?
Damsel in distress?
In charge of her own destiny?
Part of a caring family?
All of the above?
Snow White, or to use her proper name, Bettina, is a complicated woman. Her early life was full of heartbreak, but she is a princess of the realm, has a loving family, she's gorgeous, rich, charming and very sexy. What more could a princess want? A lot it turns out.
She gets entangled with an enchantress, a witch and finally a power-hungry queen, and their frenzied encounters are steamy and passionate. In the process her life turns from light to dark, happiness to heartbreak and ecstasy to betrayal. Read on to find out how she survives.
The books in this bundle are:
Snow White Gives Thanks for Small Mercies
Snow White Gives Thanks for Small Blessings
Snow White Gives Thanks & Much More