Erotic Lesbian Fairy Tales Vol. 11
Rose Red's Naughty Exploits
Witch. Enchantress. Sorceress. What do those three words have in common? Magic. Rose Red is troubled by headaches, and her ailment leads her on a trail from her home in the castle, to a monastery, on to a cottage, and from there to a world of enchantment. Pavilions made of silk billowing in the breeze mingle with exotic fragrances while naked maidens frolic in the garden. Rose delights in being a voyeur and experiences an insatiable longing that is satisfied by the bewitching Mathilde. And Rose has to make a decision. Does she remain in this enchanted realm or does she return home? Read on and find out.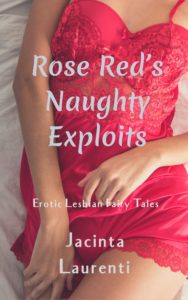 https://www.amazon.com/dp/B01N8R5TJ3
Red Riding Hood Before Dawn
Red Riding Hood's life has been shaped by wolves. The one from her childhood is long gone, and her lover, Isolde is a wolf by day, and a human by night. But a walk in the woods brings a new terror for Red Riding Hood, or Serafine as she is now known. Isolde rescues her, and horror is replaced by passion and need. Consumed by a primordial hunger, they worship one another on the mossy forest floor. The hours before sunrise are frenzied and euphoric, but the encroaching dawn brings a new challenge that Serafine must face alone.
https://www.amazon.com/dp/B01MRJGI4H/
Riding High With Briar Rose
With an approaching wedding, the castle is full of visiting royalty including the stunning bride-to-be. Briar Rose is intrigued by the bride – Princess Verena – especially after she witnesses the royal and a maid in a secret rendezvous. Rose believes her spying has been done in secret but she's been found out, and Verena confronts her. In her chamber. At night. Just the two of them. Use your imagination and visualize what two princesses who have an insatiable longing get up to during one long night. Here's a hint – it's hot and dirty.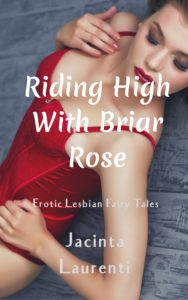 https://www.amazon.com/dp/B01MQI01KL
Erotic Lesbian Fairy Tales Vol. 11
Red. Roses. Royalty. Three women, Rose Red, Red Riding Hood and Briar Rose, connected by name but not circumstance. One a princess. One a ruler's consort. And one with a shifter lover. Under the cloak of darkness and enchantment, they forge their way. From being a voyeur to entering a world of enchantment, they allow their passion and insatiable longing to reach euphoric highs and dirty delectable depths.
The books in this bundle are:
Rose Red's Naughty Exploits
Red Riding Hood Before Dawn
Riding High With Briar Rose