Erotic Lesbian Middle East Stories Vol. 1
Hot & Heavy in Istanbul
Istanbul. It's an ancient city with a unique culture and a hint of mystery that straddles east and west and welcomes everyone.
Tilda, who is attending a conference in the city, glimpses a woman covered in an abaya, or over-garment, but loses her in the crowd. With only the voluminous gown and a trace of perfumed oil to identify her, Tilda believes she will never find her.
But as the young woman enters a restaurant, her eyes are drawn to a secluded table where the stranger is sitting. No words are exchanged, no clothing is abandoned and no kisses are given, but the heat on the street is nothing compared to the blistering fervor that rises from the table as Tilda stifles her cries of ecstasy.
It's hot. It's heavy. And Tilda discovers the flowing robe and veil mask Nadya's desperate cravings and uninhibited desire.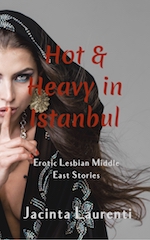 Steamy & Salacious in Morocco
Morocco. Marrakesh. Mint tea.
Thea sits in the old city sipping her favorite drink surrounded by memories when her reverie is interrupted by a stranger wearing an abaya, a headscarf and huge dark sunglasses. As the woman takes off her glasses, Thea imagines removing her clothing and much more.
Thea and the woman, Sumeya discover they have interests in common, but as they wander through the narrow alleys of the medina, Sumeya does not wait until they are hidden from sight to take what she wants.
A Moroccan home with a courtyard, fountain and cool tiles underfoot is the setting for their final frenzied, yet steamy, tryst where Thea discovers the delights that a long flowing cloak has concealed from the rest of the world.
Dirty & Delectable in Dubai
Dubai. An ancient city perched on the Gulf is both exciting and mysterious to Liv, a young woman about to attend a conference.
Immersing herself in the centuries-old practice of gold-trading, Liv is fascinated by a stranger as the woman haggles with shopkeepers. Through subterfuge, Liv is thrown into conversation with the woman, Leena, and when Leena extends an invitation, she accepts.
But the trip through traffic and over highways starts a journey that is anything but a means of getting from A to B. While Liv stares out of the car at the water in the distance, her companion chats about superficialities but her fingers are determined to coax, arouse and ignite a hunger deep within Liv.
Liv relishes the attention as desire overcomes propriety, and while the blurred scenery rushes past and the car speeds to its destination, Liv races toward her release.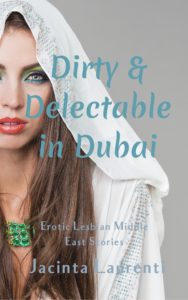 Erotic Lesbian Middle East Stories Vol. 1

Three ancient Middle Eastern cities with centuries-old secrets.
Three veiled mysterious women.
Three visitors eager to savor the sights and sounds of a fascinating city.
None are innocent. None are naive. None are unsophisticated.
Underneath their cloaked appearance, the veiled women sizzle and smolder as they await their opportunity and when it presents itself, they ignore discretion in favor of lust. Raw, primitive, unbridled lust.
They coax and tease to get what they want, and they relish each second of their frenzied encounters in restaurants, cars and dark alleys even though they risk being discovered.