Erotic Lesbian Fairy Tales Vol. 15
Cinderella Uncovered
Alone at last. Princess Ellia, as Cinderella is now known, has finished her duties for the day, her husband is away and her children are with their tutor. With a glass of wine and tray of sweetmeats, she settles in for a pleasant afternoon of reading and napping. But her rest is disturbed, and she is drawn to the neglected castle library and a book with a scarlet cover. For one brief moment, a curse is lifted as the princess chooses a story and releases an enchantress from her lonely prison inside the pages of a dusty tome. But the sorceress, Leonore is not interested in escape or evil deeds. She wants the princess. This spicy tale of two lovers destined to meet only once sizzles with eternal longing, fiery passion and all-consuming lust.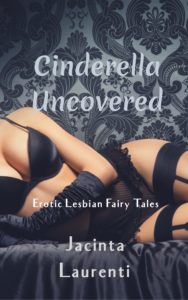 https://www.amazon.com/dp/B01N4PBLE3
Goldilocks Uncovered
Taken prisoner. Frightened and alone. Fate unknown. Princess Christabel sits eating bread and gruel in a cold, forbidding tower when she hears a voice that reminds her how she survived hardships as a child when her name was Goldilocks. Using her imagination, what was merely a fanciful notion, becomes reality, and the princess is transported to the place of her dreams. But Christa is not alone. She is confronted by a stranger, Tatjana who has pleasure on her mind, desire in her heart and lust in her eyes. They spend the day in a euphoric daze rolling around a grassy meadow. The sun may be shining, but it's the heat generated between the lovers that blisters and sizzles.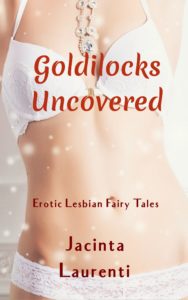 https://www.amazon.com/dp/B06X6F2CHB
Thumbelina Uncovered
A marriage ceremony followed by a royal feast leads to a night of euphoria. Or does it? The bride, Princess Thumbelina is alone the morning after the celebrations, and instead of being devastated, she's relieved. Fortunately, her new husband has no desire for a traditional union. Into the martial bedchamber flutters the fairy, Erissa who is besotted with the princess. Thumbelina is determined not to fall into her old habits, but her resistance is short-lived as Erissa teases and tantalizes her companion until, overcome with an insatiable longing and a voracious hunger, the princess succumbs. Her first day as a married woman may not be wedded bliss, but it is definitely blissful.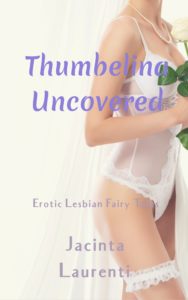 https://www.amazon.com/dp/B06X951Z4T/
Erotic Lesbian Fairy Tales Vol. 15
Fairytale math. 1) Intemperate magic = turmoil. 2) Lonely princesses = boredom. 3) Bored royal ladies craving excitement + naughty enchantresses = a) passion; b) ecstasy; c) euphoria; d) all of the above. Can you guess the correct answer?
Cinderella, Goldilocks and Thumbelina, two of whom now go by their proper names, are each married to their prince-less-than-charming. Pleasant as princes go, but a bit of a yawn. But change comes swiftly as each royal lady is swept into a swirling maelstrom of inscrutable magic, insatiable hunger and exquisite pleasure.
Do the princesses relish or reject these frenzied changes? Does our fairy tale math need revisions? Read on and find out.
The books in this bundle are:
Cinderella Uncovered
Goldilocks Uncovered
Thumbelina Uncovered