Erotic Lesbian Fairy Tales Vol. 9
Red Riding Hood Before Dawn
Red Riding Hood's life has been shaped by wolves. The one from her childhood is long gone, and her lover, Isolde is a wolf by day, and a human by night. But a walk in the woods brings a new terror for Red Riding Hood, or Serafine as she is now known. Isolde rescues her, and horror is replaced by passion and need. Consumed by a primordial hunger, they worship one another on the mossy forest floor. The hours before sunrise are frenzied and euphoric, but the encroaching dawn brings a new challenge that Serafine must face alone.
https://www.amazon.com/dp/B01MRJGI4H/
Red Riding Hood: Claimed on All Hallows Eve
Red Riding Hood knows what lurks in the forest. Do you? If you said the big bad wolf, you're wrong. It's Red Riding Hood's lover, Isolde, but she's disappeared and hasn't been seen for months. Instead of spending All Hallows Eve with her, Red Riding Hood, or Serafine to use her proper name, becomes the conquest of an enchantress. And the two are transported to an otherworldly exotic palace and spend one long sensual, sultry, steamy night. Read on, and you'll be entranced too.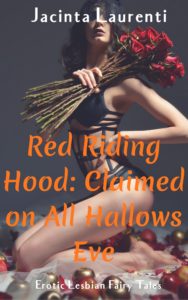 https://www.amazon.com/dp/B01MF8958W
Red Riding Hood After Dark
A deep dark forest. Danger lurking behind every shadow. A heart pounding as evil approaches. A grown up Red Riding Hood, now known by her proper name of Serafine, has heard the tales of what skulks in the woods. After a terrifying encounter, all is not what it seems. A ravishingly naked woman steals her heart and the two spend one night in a cottage hidden by the tall trees. By the time the dawn breaks, fear has been replaced by passion. And Serafine has experienced an unforgettable night of ecstasy – with the name of her lover, Isolde, on her lips.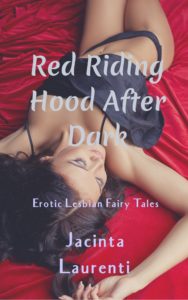 http://amzn.com/B01KIHJMDU
Erotic Lesbian Fairy Tales Vol. 9
A big bad wolf. Ever present. Constantly lurking. Red Riding Hood, now known as Serafine, has dealt with wolves in her nightmares and in reality. One terrifies her, the other adores her. One wolf shifts into human form and becomes her lover, Isolde. And Isolde is bad in the worst way. Wicked and filthy, she takes Serafine to places she's never been. With Isolde in her life, Serafine experiences sensual highs and faces miserable lows. But when the Isolde is away, Serafine is not afraid to play.
The books in this bundle are:
Red Riding Hood After Dark
Red Riding Hood: Claimed on All Hallows Eve
Red Riding Hood Before Dawn