Erotic Lesbian Fairy Tales Vol. 20
Rapunzel Unwrapped
She reigns supreme, and yet she daydreams about bedding a veiled woman who calls her name.
No longer a princess, but queen, Rapunzel is disrespected by her council of advisors. As she ignores their haughty words and makes a pronouncement, the fantasy woman provokes and entices her.
But the vision becomes reality as the queen stumbles into a world of swirling sands, tinkling fountains and spicy fragrances. The woman in her imagination is a princess named Ameena and while Rapunzel may be queen in her own world, Ameena is uncompromising when it comes to getting what she wants.
Entangled, entwined and aroused atop lush carpets and silky cushions, the women produce a blistering fervor that rivals the desert heat.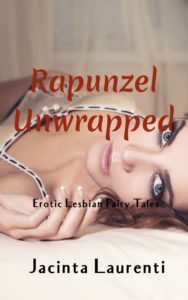 Snow White Unwrapped
She's a princess at home in the palace wearing silk gowns and fur-trimmed jackets, but when she's out riding, with a sweaty galloping steed between her legs, she dresses like a man. In a doublet and breeches!
Princess Bettina has bedded many a woman-royal, noble and servant-but has she met her match in Duchess Grete? The noblewoman captivates Bettina and as lust overwhelms her, the princess takes and satisfies the duchess.
Steamy and sizzling, the two heat up the boudoir as they provoke one another and satiate their hunger. But what the duchess craves is something the princess cannot give her? Or can she?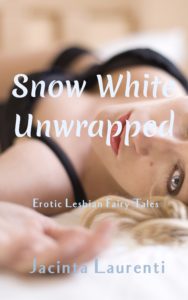 Thumbelina Unwrapped
Though petite in stature, Thumbelina is not afraid to take what she desires when she wants it. Rudely interrupted by a masked bandit while she has pixie in her bed, the princess is entranced by the intruder though he is brandishing a spear and sends her afternoon delight racing out the door. But his menacing tone has her rethinking her fascination, and her ladyship overpowers the rogue only to discover he is hiding a secret.
Dressed in men's breeches and a doublet, does not make one a man. Peeking underneath the mask, her ladyship discovers a woman. The stranger, Imra, has a saucy grin and a jaunty swagger, and even though she hides behind her haughty royal manners, Thumbelina cannot deny her true feelings.
The women's ravenous hunger has them teasing and taunting one another as they steam up the bedchamber. But Imra has one more surprise for the princess…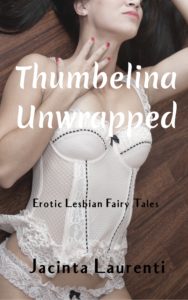 Erotic Lesbian Fairy Tales Vol. 20
Three royal women, outwardly modest and traditional, but underneath their voluminous gowns and petticoats, they are determined to forge their own destiny and bed whom they wish.
One a sovereign, conducts her dalliances far from the prying eyes of her council of men. The second is a princess who is yet to marry and whose family ignore her flings. While the third, a diminutive woodland princess, overwhelms an intruder, and discovers a secret.
Society's expectations lead them to hide their proclivities, but when the chamber door closes, the heat rises and their impassioned hunger is unleashed.
The books in this bundle are:
Rapunzel Unwrapped
Snow White Unwrapped
Thumbelina Unwrapped