Erotic Lesbian Fairy Tales Vol. 19
Briar Rose Unadorned
With a highwayman pointing a sword at her throat, Princess Briar Rose clasps her dagger hidden in her gown. But the men are frightened away by the ringleader who isn't a scar-faced filthy rogue with a scruffy beard and foul breath. Instead, it's a woman.
And when she appears, Rose forgets about her stolen jewelry. In fact, she forgets everything except wanting to bed the bandit queen. And she does. In the forest, she gives and takes, steals and let's go, ransacks and protects. In the process, clothes are shredded and Rose's desperate hunger is satisfied.
So, who is the real thief? Rose or the bandit?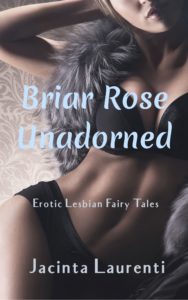 Rose Red Unadorned
In the middle of the night, alone in her chamber, Rose Red, Duchess of Aeckland is confronted by a stranger. After riding on horseback through the wee small hours, her captor delivers the noblewoman to an enchanting manor house where she is welcomed by the beguiling Gesine.
Provoked and aroused, Rose's insatiable hunger leads the two women to indulge in a naughty game of hide-and-go-seek with ripe luscious grapes and strawberries bursting with flavor. They continue their playfulness in a bathing pool where the water surges, bubbles and swirls over and around the lovers as they while away the afternoon.
But Rose has a choice to make. Does she stay with Gesine or does she return to her old life?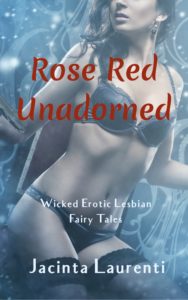 Gretel Unadorned
Fleeing from Prince Wulf, Gretel, Countess of Argarth cannot trust anyone. She bedded his wife so the merciless prince has destroyed Gretel's estate as punishment. Disguised as a man, she is traveling to retrieve her buried treasure when she is waylaid by a bandit.
With a sword on her throat and the thief's hand on her coin purse, Gretel fears for her life. But the robber is not a man, but a stunning woman, Hilde with a saucy grin and a come-hither sway of her hips. Dressed alike, and both consumed by a fierce hunger and desperate need, the two women arouse and tease one another as they play games in the woods before Gretel continues her journey.
But Hilde is hiding a secret. Will Gretel be betrayed? Read on and find out.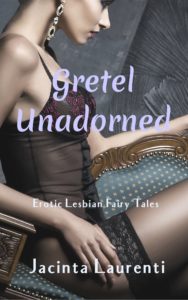 Erotic Lesbian Fairy Tales Vol. 19
Three women. Each has a sword pointed at her throat. But not only do the princess, duchess and countess maneuverer their way out of danger, they use their desperate situations to their own advantage. A highway man, a thief and an enchantress are no match for our noblewomen especially when the first two are not what they appear to be.
Whether they are in the woods, by a stream or in an enchanting villa, the noble ladies ignore thievery, magic spells and a possible traitor to satisfy their cravings and satiate their wanton hunger. And they love playing naughty games.
The books in this bundle are:
Briar Rose Unadorned
Rose Red Unadorned
Gretel Unadorned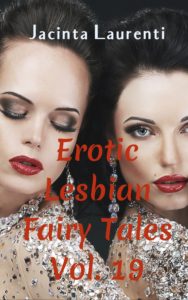 Red Riding Hood Unadorned
How would you describe fire when it's at its coolest? Scarlet? Crimson? Vermillion? Or just plain red?
Serafine, whose childhood name was Red Riding Hood, is unnerved when she is confronted by mysterious pieces of red fabric. But unbeknownst to her, the cloth belongs to Fia, an enchantress who appears out of the flames. Fia's hunger is as ferocious and intense as the fire from which she emerged, and the two produce a blistering heat as their passion ignites.
But as their dalliance ends, Serafine discovers fire with its flickering flames and scarlet embers has, and always will be, part of her. Two women. A shared secret. But only one destiny.