Wicked Erotic Lesbian Fairy Tales Vol. 1
Smitten with Rapunzel
You're familiar with the tale of Rapunzel, right? A tall deserted tower. A princess in peril. A wicked witch and her powerful magic spell. Right? Wrong! This is not that story.
Rapunzel is a princess no more. Her husband is dead, and she rules their domain as sovereign. But the chattering nobility want her to fail though she has outsmarted them until now. As the queen escapes from her tedious, and sometimes heart-breaking, administrative duties, someone surprises her. And this mysterious someone-an enchantress named Liane-knows a lot about the queen.
But Rapunzel is no damsel in distress and will not allow herself to be schooled by a sorceress. In the private setting of the queen's boudoir, two powerful women crave intimacy, and their insatiable hunger and desperate need for gratification blisters and sizzles across the page. As they tease and tantalize each other and hurtle toward fulfillment, fantasy challenges reality.
But there can only be one winner.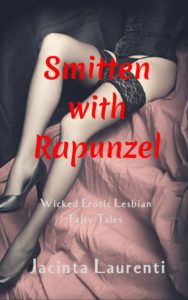 Besotted with Snow White
If a princess is alone in the woods trespassing on someone's property, and she is confronted by an enchantress, should she a) run away, b) scream for help, c) get angry d) apologize?
Princess Bettina, known only to her family as Snow White, chooses option d) and in doing so breaks an evil spell that cursed the sorceress, Amalie. Finding herself in Amalie's unusual home where water is a central feature, the women discover they share an insatiable hunger and embark on an afternoon of teasing, titillation and intense fervor. The cool water may seethe and swirl over the ceiling and the walls, yet it cannot extinguish the blistering heat that is ignited between Bettina and Amalie.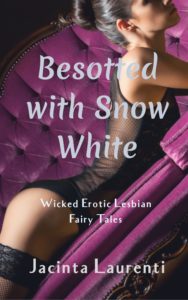 A harmless flirtation with a visiting duchess in the great hall surrounded by the king, her husband, Prince Magnus and countless noblemen and women leaves Princess Briar Rose aroused but shaken. Fearful of discovery, she hurries back to her chamber – alone. But in the wee small hours, she is taken from her bed and sent off in a carriage into the dark night.
But Rose is no longer alone. Unable to see through a blindfold, the princess huddles in the corner as a husky voice whispers in her ear and gloved hands tease and taunt her body. As her flesh sizzles and a scorching heat consumes her, the coach rocks and sways to its destination.
Clothing is abandoned and decorum forgotten as what Rose craves is no longer fantasy, but reality. The clattering of hooves mask the moans, the whimpers and the blissful euphoria from within the carriage as the women reach fulfillment while the horses thunder along the country road.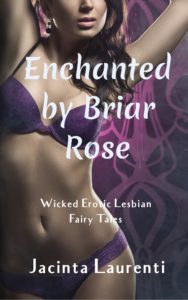 Wicked Erotic Lesbian Fairy Tales Vol. 1
What do two princesses and a queen have in common? Money? Position? Prestige? Definitely all three, but let's add a dash of intrigue and insatiable hunger.
A naughty duchess and two enchantresses wiggle their way into the royal ladies' lives and whether it's in a palace throne room, a secret hideaway or blindfolded in a carriage, the noble women give as much as they take.
Outwardly proper with brocaded gowns that hide their voluptuous bodies, the women conceal their true feelings. But underneath their formal exteriors and well-bred manners, the regal trio unleash a scorching heat. They ignite an inferno that neither magic nor decorum can quell, and they get filthy with abandon.
Naughty nights, dirty days and euphoric evenings ensue as they arouse, tease and tantalize with a sense of urgency as their time together is fleeting.
The books in this anthology are:
Smitten with Rapunzel
Besotted with Snow White
Enchanted by Briar Rose