Erotic Lesbian Fairy Tales Vol. 8
Rose Red's Naughty Exploits
Witch. Enchantress. Sorceress. What do those three words have in common? Magic. Rose Red is troubled by headaches, and her ailment leads her on a trail from her home in the castle, to a monastery, on to a cottage, and from there to a world of enchantment. Pavilions made of silk billowing in the breeze mingle with exotic fragrances while naked maidens frolic in the garden. Rose delights in being a voyeur and experiences an insatiable longing that is satisfied by the bewitching Mathilde. And Rose has to make a decision. Does she remain in this enchanted realm or does she return home? Read on and find out.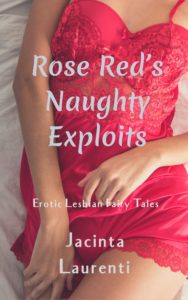 https://www.amazon.com/dp/B01N8R5TJ3
Rose Red: Charmed on All Hallows Eve
Rose Red disappears for an afternoon on All Hallows Eve. Or does she? An old friend of Princess Saskia lures Rose to her sanctuary. This sorceress, Soora, lusts after Rose and is determined to have the young woman do her bidding. All night long. There is no escape until dawn. Naughty? Definitely. Dirty? Yes. Wicked? You'd better believe it. And don't forget filthy. It's a sexy sizzling encounter that continues until the small hours of the morning, and Rose never wants it to end.
https://www.amazon.com/dp/B01MCWT7ZY
Rose Red In A Bed Of Thorns
All is not what it seems in Rose Red's world. A nocturnal visitor, a magic spell, a transformation and surging emotions change her forever. She transitions from her poor, but simple life as a seamstress to one of luxury in a powerful princess' realm. There she is known as Rose. But what is she to do all day? No work. Just play. And longing. Insatiable longing. Longing for the one in front of her. Longing for the one who cannot see her. Until she does. And then it becomes delightful, delectable, delicious and very dirty.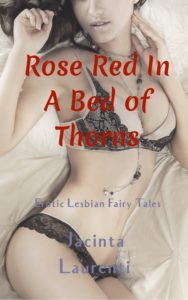 https://www.amzn.com/B01KWAJOWC
Erotic Lesbian Fairy Tales Vol. 8
From rags to riches. Sweet to Sapphic. Innocent to intimate. Rose Red is on a wild ride. She's the lover of Princess Saskia who schools her in the ways of love. But the two are not exclusive, and they both have dalliances on the side. Rose has a fascination with magic, and along with royalty, her lovers include a sorceress and a witch. On her journey she's bewitched and bedazzled, tantalized and titillated, enchanted and enthralled.
The books in this bundle are:
Rose Red In A Bed of Thorns
Rose Red: Charmed on All Hallows Eve
Rose Red's Naughty Exploits