Erotic Lesbian Fairy Tales Vol. 17
Rose Red Unveiled
Two noblewomen. A mischievous duchess and a saucy countess. Alone in a crowd. By themselves in a carriage. Just the two of them in a boudoir.
Rose relishes a dalliance with a servant, a princess or baroness. She isn't fussy. Sibilla craves satisfaction her spouse can't provide.
The two embark on a steamy romp where crowds are invisible and bumpy roads no obstacle. A hunger burns inside both women which leads to frenzied encounters in public and private. Beneath their veneer of respectability, lies desperate yearning and insatiable lust they can't hide. Rose and Sibilla sizzle their way across the countryside and the page not sure of their destination.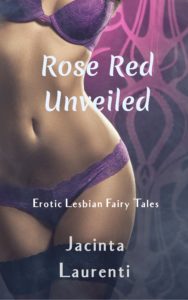 https://www.amazon.com/dp/B06XBCDPM4
Snow White Unveiled
A wisp of lilac fabric. A flutter of wings. Delicate satin slippers.
Princess Bettina is confronted by all three as she shoves her way through a vine-covered wooden door and onto an ancient isle.
Expecting an afternoon of tea and pleasant company, she instead spends the hours tucked inside an intoxicating web of arousal, insatiable hunger and lust, as a fairy, Noemi flits into her life and hovers over her heart.
A magic mist protects the lovers as they taunt, tease and tantalize each other, but the coming dusk brings danger, and the fairy must flee where Bettina cannot follow.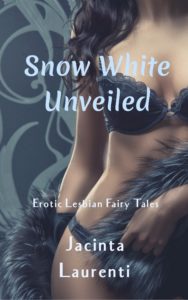 https://www.amazon.com/dp/B06XF112T1
Cinderella Unveiled
A death. A duchess. Dirty delicious deeds in a princess' boudoir.
Cinderella, who now uses her proper name of Princess Ellia, is in mourning for one of her relatives, King Julius. After the princess comforts his widow, the new queen regent, she escapes for much-needed time alone, but her rest is interrupted by a mysterious someone in the next bedchamber.
Peeking and spying through the peephole leads Ellia to a naked woman who teases and arouses her before the two engage in mutual self-gratification. The stranger is Duchess Elaide who has bedded many of the noblewomen in the realm. Ellia is titillated by the duchess' wicked reputation as she allows herself to be pulled into her companion's web of desire and intrigue that she desperately craves.
Their tryst is steamy, sizzling and filthy as they hide from the world, and it provides a tantalizing respite from reality.
https://www.amazon.com/dp/B06XJS9GQV/
Erotic Lesbian Fairy Tales Vol. 17
Unveiled. Uncovered. Unmatched. A fairy, a flirty duchess and a charming countess confront, taunt and tease two princesses and one consort. In public. In private. On a balmy isle.
Heat, sweat and dust combine, but our heroines don't mind getting dirty. In fact, they relish it. They crave it. And they are in no way innocent. They are filthy in their hearts, thoughts and deeds.
Emotion surges, swells and eventually overwhelms Rose Red, Snow White and Cinderella as the temperature rises, and they hurtle toward their destiny.
The books in this bundle are:
Rose Red Unveiled
Snow White Unveiled
Cinderella Unveiled