Erotic Lesbian Fairy Tales Vol. 5
Thumbelina & The Naughty Nymph
A princess. A woodland nymph. A steamy rendezvous inside a buttercup. You've probably heard of Thumbelina, the princess captured by an evil toad. But that's in the past. What you don't know is that she's all grown up and about to be married off to a prince. She goes into hiding to escape her fate and receives a visitor. Turns out the stranger is a naughty woodland nymph named Kalypise who wastes no time bedding the princess. Their sexy sizzling encounter transports Thumbelina to paradise and changes her destiny forever.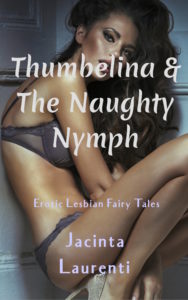 https://www.amzn.com/B01M14W3KX
Thumbelina & The Sexy Sprite
Wanted: Princess Thumbelina is in need of a tutor before her nuptials. Urgent! To begin immediately. Imagine hearing that from your local town crier. A king is desperate for his pride and joy to marry a handsome prince, but she needs to be taught a lesson. Enter a sexy sprite named Imra and Thumbelina finds herself being schooled in more than just etiquette and history. Read on to discover how an education went from curtsies and embroidery to a sizzling tutorial.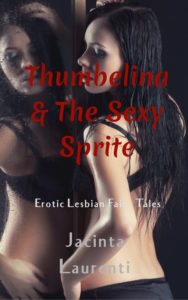 https://www.amzn.com/B01M1SO3JI
Thumbelina & The Playful Pixie
Thumbelina daydreams of the perfect lover. And it comes true! As the princess prepares to meet the handsome prince, a pixie arrives who beds her, but doesn't want to wed her. Keya, the pixie, shares a sizzling encounter with Thumbelina and invites her to run away. Does Thumbelina escape life in the palace and a betrothal? Should she disappear and become plain Thumbelina? Duty and destiny? Or passion and pleasure? Read on and find out.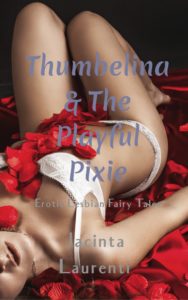 https://www.amzn.com/B01LX25FN4
Erotic Lesbian Fairy Tales Vol. 5
Which statement is false about Princess Thumbelina?
She is betrothed.
She is excited for her wedding.
She is an independent woman.
If you chose, 2 you are the winner! The princess does not wish to marry the handsome prince. Instead, she gets wicked with woodland ladies, and they tutor, tease and tantalize her extremely well. Read on to discover how they school Thumbelina in the ways of love.
The books in this bundle are:
Thumbelina & The Naughty Nymph
Thumbelina & The Sexy Sprite
Thumbelina & The Playful Pixie