Erotic Lesbian Fairy Tales Vol. 7
Three Stories with a Halloween Theme
Briar Rose: Taken on All Hallows Eve
Magical. Mysterious. Mesmerizing. Princess Briar Rose's venture into an otherworldly realm is a formidable one where she discovers a woman like no other. Cyrene, as the woman is known, is on earth for one day to claim what is rightfully hers. And to her astonishment, this is what Rose has been craving. No puny drunken prince for her. She's been desperate for a real lover who can ascend with her to heart-stopping heights and get down to the dirty depths. Join them on All Hallows Eve and maybe you'll discover what you've been lusting after.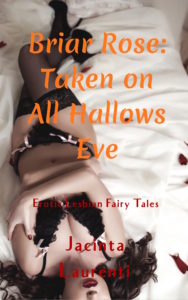 https://www.amazon.com/dp/B01M3Q1XBE
Red Riding Hood: Claimed on All Hallows Eve
Red Riding Hood knows what lurks in the forest. Do you? If you said the big bad wolf, you're wrong. It's Red Riding Hood's lover, Isolde, but she's disappeared and hasn't been seen for months. Instead of spending All Hallows Eve with her, Red Riding Hood, or Serafine to use her proper name, becomes the conquest of an enchantress. And the two are transported to an otherworldly exotic palace and spend one long sensual, sultry, steamy night. Read on, and you'll be entranced too.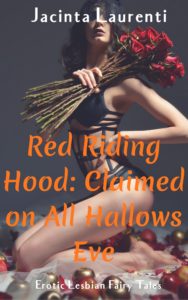 https://www.amazon.com/dp/B01MF8958W
Rose Red: Charmed on All Hallows Eve
Rose Red disappears for an afternoon on All Hallows Eve. Or does she? An old friend of Princess Saskia lures Rose to her sanctuary. This sorceress, Soora, lusts after Rose and is determined to have the young woman do her bidding. All night long. There is no escape until dawn. Naughty? Definitely. Dirty? Yes. Wicked? You'd better believe it. And don't forget filthy. It's a sexy sizzling encounter that continues until the small hours of the morning, and Rose never wants it to end.
https://www.amazon.com/dp/B01MCWT7ZY
Erotic Lesbian Fairy Tales Vol. 7
What do you think of when you see the word Halloween?
Candy?
Costumes?
Cobwebs?
That's fine, but it's so dull and dreary! Instead, imagine a sexy sorceress, a wicked witch and an enticing enchantress. Now that's much more compelling. Right?
Briar Rose, Red Riding Hood and Rose Red meet these formidable women on All Hallows Eve but there are no pointed hats, black cats or cauldrons in sight. They each experience one long night of smoldering passion in otherworldly realms, and they are changed. Forever.