Naughty Erotic Lesbian Fairy Tales
Volume 2
Dazzled by Goldilocks
Christabel is a princess on a mission – a diplomatic mission – to the court of the fractious King Clemens. As the woman known as Goldilocks in her youth sails to her destination, a severe thunderstorm sinks the ship. Christa survives, but instead of being rescued by the king's knights, she is waylaid by a group of bandits.
And the leader is a stunning woman who, instead of striking fear, stirs lust and a fierce yearning in Christa. Despite her intense attraction to Metela – the bandit queen – her ladyship asks for safe passage, but she is taken to the marauders' hideout where she encounters Metela's former lover who is determined to regain her place in the leader's bed.
Hidden deep in the forest, and unable to ignore their desperate longing and ravenous hunger, the princess and the bandit queen create a blistering heat that sears their bodies and hearts.
But Christa has a choice. She can return home and help her husband govern their domain, or live a life on the run with her lover…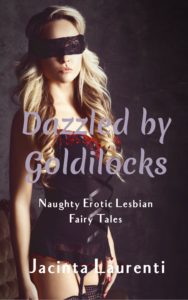 Beholden to Gretel
She's Gretel, Countess of Argarth, searching for her buried treasure. At her heels, is a prince intent on revenge because she bedded his wife. She also lay with his sister, but he's not aware of that – yet. In front of her, hidden in the mountains shrouded in mist, is a witch seeking retribution for her sister's death. And between the two is Ines, a stunning enchantress who saves the countess, and accompanies her on the final stage of her journey.
But this is no platonic partnership. The women share an intense hunger, and waves of insatiable lust ripple between the two as their cravings overwhelm them in the middle of an ancient forest.
But while Ines' magic powers are diminished, her expertise in the bedchamber is anything but. In fact, it's undeniably wicked – she is a witch after all.
While blurred memories hover just out of reach, the women, who are both lovers and strangers, hide secrets and carry guilt from long ago, as they attempt to unravel a mystery and a curse.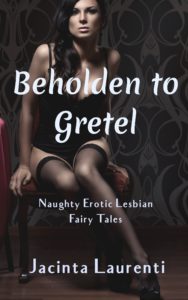 Mesmerized by The Queen
No longer a princess, but Queen Regent until her son comes of age, Carolin wrestles with her courtiers and advisors who seethe with indignation at a female on the throne. But during one long restless night, a woman appears to her in a dream – or is it a vision?
But the queen has been betrayed. One of her councilors, too cowardly to perform the duty himself, arranges for her capture and transportation to a place from which she can never return.
But she doesn't die.
She is a survivor.
As a gale howls around the small turret in her fortress prison, the queen hears her name, "Carolin." Though close to death and convinced she's hallucinating, she escapes and arrives in a utopia. And there she meets the stranger from her dream.
But this is no ordinary woman.
She is an enchantress named Iona.
Though wary at first, Carolin cannot deny her attraction to Iona. And as her resistance crumbles, and arousal overwhelms reason, the queen gives in to her longing. She and the sorceress engage in a steamy entanglement where they captivate and mesmerize one another, and each one hopes it will continue for an eternity.
Sumptuous feasts, luxurious surroundings, lush gardens and a tinkling waterfall provide the setting for Carolin and Iona's dalliance. Yet both women are prisoners in their own way, and as they struggle to escape the bonds of patriarchy and jealousy, Carolin learns the truth about her imprisonment.
But can she rescue Iona from her solitary existence? Or must she do her duty and save the kingdom?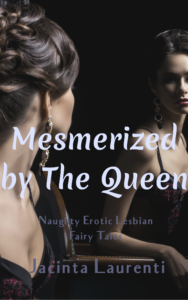 Volume 1
Taken by Briar Rose
A charming princess. A gorgeous sorceress. A missing prince. What could go wrong?
Roused from sleep, Princess Briar Rose learns of her husband's capture. After hustling a woman from her bed, she hatches a scheme to save her spouse and travels to a ruined forbidding castle to carry out her plan. But things go awry when Sissi, a stunning enchantress, appears and takes advantage of and provokes the dispirited princess.
A bleak dungeon transforms into a luxurious love nest, with a warm fire crackling in the hearth and a feast of food and wine for her ladyship to devour. The princess resists Sissi's advances but once she learns the prince is safe, Rose cannot ignore her arousal.
Clothes are shredded and discarded as a hunger ignites deep within the princess. Sissi gives Rose what she craves and the two produce a blistering heat that tantalizes and consumes them.
But before the lovers part, Rose's secret is revealed and Sissi has her world upended.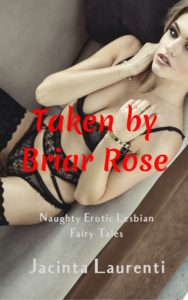 Ravished by Cinderella
A devoted princess doing her civic duty senses eyes upon her from across the crowded great hall. Moments later hands graze her flesh after she spills wine over her gown. Princess Ellia, who spent many a year amongst the cinders, is drawn to the woman like no other, but knows she must adjourn to her chamber.
Ellia's attempts at forgetting the mysterious stranger come to naught so she takes an early morning stroll in a meadow dotted with wildflowers. But instead of a brisk walk, she witnesses and then partakes in a feverish dalliance where passion swamps reason, frenzy overwhelms modesty and lust engulfs virtue.
A wooded glade, a forbidding castle, a boudoir adjoining a magnificent garden and a sailboat skimming across the water along with a whiff of magic form the backdrop to this tale.
But when all seems lost, who can Ellia count on to get her home?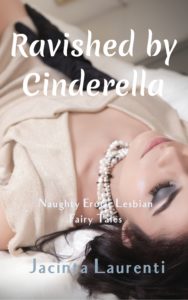 Claimed by Rose Red
Which word doesn't belong?
a) War
b) Starvation
c) Destruction
d) Lust
If you answered d), you're a winner! Ding. Ding. Ding.
Princess Saskia's domain is under siege, and she has escaped with her knights. Her former lover, Rose Red, Duchess of Aeckland remains at the castle with the princess' subjects. But as the duchess grabs much-needed sleep, she is whisked out of bed and taken into enemy territory.
A case of mistaken identity leaves Rose fearing for her safety, but she does what is best for her countrymen and women.
But the duchess cannot ignore the voluptuous bewitching queen, desperately in need of attention, who yearns for Rose to bed her and is not shy about making her feelings known. Hot, steamy and sizzling, this tale is not the faint-hearted as the lovers' frenzy heats up the chamber and blisters across the page.
But both women harbor secrets. Will they eventually discover the truth?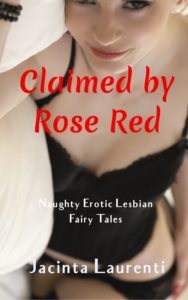 Naughty Erotic Lesbian Fairy Tales Vol. 1

A princess is captured. Or is she? A second royal woman has been led astray? Or has she? A noblewoman is mistaken for someone else. Or is she?
Three women with a regimented life of duty and purpose encounter war, terror and magic, and yet in the midst of turmoil, their yearning overcomes prudence as they charm and wheedle their way into other women's boudoirs and bedchambers.
Three steamy capers in forests, castles and fortresses sizzle with passion and lust as the women bed their conquests and satisfy their insatiable needs.
The books in this bundle are:
Taken by Briar Rose
Ravished by Cinderella
Claimed by Rose Red