Naughty Erotic Lesbian Fairy Tales Vol. 1
Volume 1
Taken by Briar Rose
A charming princess. A gorgeous sorceress. A missing prince. What could go wrong?
Roused from sleep, Princess Briar Rose learns of her husband's capture. After hustling a woman from her bed, she hatches a scheme to save her spouse and travels to a ruined forbidding castle to carry out her plan. But things go awry when Sissi, a stunning enchantress, appears and takes advantage of and provokes the dispirited princess.
A bleak dungeon transforms into a luxurious love nest, with a warm fire crackling in the hearth and a feast of food and wine for her ladyship to devour. The princess resists Sissi's advances but once she learns the prince is safe, Rose cannot ignore her arousal.
Clothes are shredded and discarded as a hunger ignites deep within the princess. Sissi gives Rose what she craves and the two produce a blistering heat that tantalizes and consumes them.
But before the lovers part, Rose's secret is revealed and Sissi has her world upended.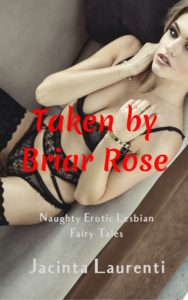 Ravished by Cinderella
A devoted princess doing her civic duty senses eyes upon her from across the crowded great hall. Moments later hands graze her flesh after she spills wine over her gown. Princess Ellia, who spent many a year amongst the cinders, is drawn to the woman like no other, but knows she must adjourn to her chamber.
Ellia's attempts at forgetting the mysterious stranger come to naught so she takes an early morning stroll in a meadow dotted with wildflowers. But instead of a brisk walk, she witnesses and then partakes in a feverish dalliance where passion swamps reason, frenzy overwhelms modesty and lust engulfs virtue.
A wooded glade, a forbidding castle, a boudoir adjoining a magnificent garden and a sailboat skimming across the water along with a whiff of magic form the backdrop to this tale.
But when all seems lost, who can Ellia count on to get her home?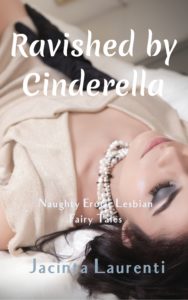 Claimed by Rose Red
Which word doesn't belong?
a) War
b) Starvation
c) Destruction
d) Lust
If you answered d), you're a winner! Ding. Ding. Ding.
Princess Saskia's domain is under siege, and she has escaped with her knights. Her former lover, Rose Red, Duchess of Aeckland remains at the castle with the princess' subjects. But as the duchess grabs much-needed sleep, she is whisked out of bed and taken into enemy territory.
A case of mistaken identity leaves Rose fearing for her safety, but she does what is best for her countrymen and women.
But the duchess cannot ignore the voluptuous bewitching queen, desperately in need of attention, who yearns for Rose to bed her and is not shy about making her feelings known. Hot, steamy and sizzling, this tale is not the faint-hearted as the lovers' frenzy heats up the chamber and blisters across the page.
But both women harbor secrets. Will they eventually discover the truth?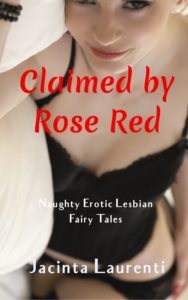 Naughty Erotic Lesbian Fairy Tales Vol. 1

A princess is captured. Or is she? A second royal woman has been led astray? Or has she? A noblewoman is mistaken for someone else. Or is she?
Three women with a regimented life of duty and purpose encounter war, terror and magic, and yet in the midst of turmoil, their yearning overcomes prudence as they charm and wheedle their way into other women's boudoirs and bedchambers.
Three steamy capers in forests, castles and fortresses sizzle with passion and lust as the women bed their conquests and satisfy their insatiable needs.
The books in this bundle are:
Taken by Briar Rose
Ravished by Cinderella
Claimed by Rose Red