Erotic Lesbian Fairy Tales Vol. 4
Rapunzel's Afternoon Delight
Rapunzel and the witch. You know the story, right? Long hair. Prisoner. Tower. Wicked witch. Wrong! The Princess Rapunzel is married to a handsome prince, but she doesn't have her happy ever after. Instead of being pleasured by her husband, the princess has taken a lover. She's getting wicked with the witch, Gisela! They meet in that tall, deserted tower, and their affair is delicious, decadent and very, very dirty.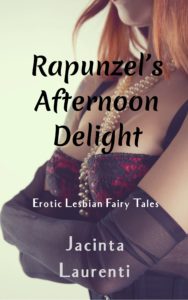 http://amzn.com/B01KATOHV8
Rapunzel's Afternoon Pleasure
So, here's the deal with Rapunzel. She's back in that deserted tower with her lover, Gisela. Her love life at home is a yawn, so she needs to get her kicks in that crumbling fortress. But this time, the lovers leave their love nest. And do they get wicked in public? Why yes, they do. And they get very dirty. And you know what happens when you get filthy? You have to get clean. And they do. Together. Read on to find out what happens when a princess and a witch engage in a steamy sizzling tryst.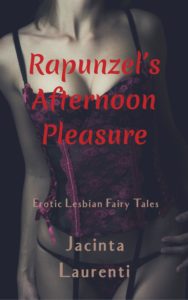 https://www.amzn.com/B01LW3EXIJ
Rapunzel's Afternoon Amusement
Rapunzel. The witch, Gisela. The tower. Oops, no wrong story. There's no tower in this book. The lovers are in a forbidding fortress surrounded by royalty from nations far and wide. Rapunzel is desperate for release on her long journey, so she attends to herself in the carriage. But after they're reunited, the lovers get wicked in places you wouldn't expect. In public. Right under the noses of the snooty aristocracy. Their tryst is steamy and sizzling, and their tale is crying out to be read. So, what are you waiting for?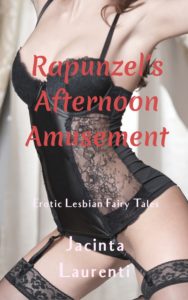 https://www.amzn.com/B01M1SJPEB
Erotic Lesbian Fairy Tales Vol. 4
You know the story of Rapunzel and the mean witch in the tower, right? Good. That story is boring, and it's not what this tale is about. Yes, Rapunzel is in the deserted tower but the witch, Gisela, is her lover. Imagine that!
And Rapunzel cut her hair. Okay, now don't get too excited. This is the middle ages after all – she doesn't have a buzz cut. The two lovers get wicked in their tower and elsewhere. In public and in private, their affair is sizzling, steamy and very naughty. Read on and discover what they get up to.
The books in this bundle are:
Rapunzel's Afternoon Delight
Rapunzel's Afternoon Pleasure
Rapunzel's Afternoon Amusement