More Erotic Lesbian Fairy Tales (6-book Bundles)
More Erotic Lesbian Fairy Tales
Six Naughty Stories
Seductive sorcerers. Sultry shifters. Provocative princesses. Mischievous maids. Voracious visitors. Ravenous rulers. These over-the-top characters join sexy fairy tale heroines who act out their dirtiest frenzied fantasies in this bundle of six stories. They meet up in barns and castles, palaces and stables, bathtubs and bedrooms. Why don't you join them and come along for one wild ride?
The books in this bundle are:
Rapunzel's Afternoon Delight
Red Riding Hood After Dark
Briar Rose's Morning Blues
Rose Red In A Bed Of Thorns
Gretel's Lost Innocence
Cinderella's Roll In The Hay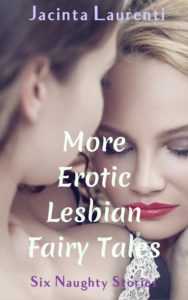 More Erotic Lesbian Fairy Tales
More Erotic Lesbian Fairy Tales Vol. 2
Six Naughty Stories
The characters: Princesses. Consorts. Commoners. The setting: Freezing temperatures outside and blistering heat within. The scenario: Six seductive women celebrate Yuletide and the coming Epiphany with sultry sirens, sorceresses and noblewomen. Whether married, single or widowed, their wicked daydreams become reality. Insatiable hunger overcomes modesty and intense craving bypasses decorum. Mist, magic and mischief create a turbulent background for searing passion and delirious ecstasy
The books in this bundle are:
Cinderella Unwrapped
Rose Red & The Gift of Giving
Rapunzel Decks The Halls
Red Riding Hood Jingles through The Snow
Gretel & The First Night of Christmas
Briar Rose Trims The Tree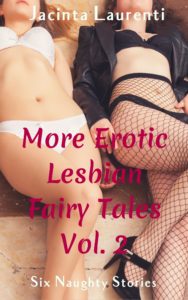 More Erotic Lesbian Fairy Tales Vol. 2
More Erotic Lesbian Fairy Tales Vol. 3
Where? Castles, carriages, ancient isles and a grim forbidding tower.
Who? Princesses and one devious duchess.
With whom? Enchantresses, noblewomen and woodland fairies.
What? Steamy romps in bedchambers and boudoirs, delicious dalliances in musty forgotten rooms, frenzied encounters in realms beyond the imagination and tantalizing diversions behind a misty veil of intrigue.
The books in this bundle are:
Cinderella Uncovered
Goldilocks Uncovered
Thumbelina Uncovered
Rose Red Unveiled
Snow White Unveiled
Cinderella Unveiled