Erotic Lesbian Fairy Tales Vol. 18
Goldilocks Unmasked
Peacock feathers and lace. Masks and a masquerade ball. A princess and an enchantress.
Princess Christabel, formerly known as Goldilocks, twirls around the dance floor in the arms of kings and princes. As she basks in the success of the evening, she ends up in an old wing of the palace that has been boarded up for decades. But as the cobwebs and grime disappear, she enters an otherworldly time and place and is confronted by Sefora, an enchantress who is imprisoned by powerful magic.
But one glance from Sefora and the princess forgets her predicament as an intense hunger consumes her, and her companion is the only one who can satisfy her. The heat they create blisters and sizzles as they tease and coax one another to their ultimate bliss.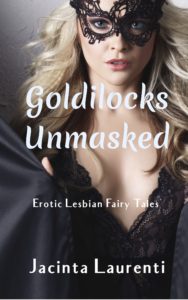 https://www.amazon.com/dp/B06XP7VT1Z
Gretel Unmasked
A highwayman pursues a carriage as it tears along a lonely road on a dark and gloomy night. After the carriage crashes, the servants run away leaving a terrified Princess Augusta at the bandit's mercy. But all is not what it seems. The highway robber is not man, but a woman. And not just any woman. She is Gretel, Countess of Argarth.
Forced to spend the night together, Augusta shares the countess' bed under a pretext. Gretel may have pilfered the princess' jewelry, but the princess steals the noblewoman's innocence and schools her in the ways of love. But their steamy, lust-filled encounter brings satisfaction and acceptance that gives them both strength for what lays ahead.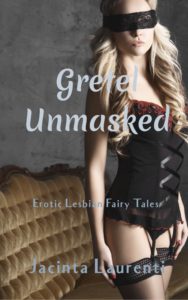 https://www.amazon.com/dp/B06XQF9DK6/
Red Riding Hood Unmasked
A war is raging. Food is scarce. Townsfolk and soldiers alike are battle weary, hungry and exhausted. As Serafine searches for food, she encounters and is dazzled by Princess Emelia, wife of the hated Prince Dominik who is commander of the opposing army.
In the midst of warfare, and even in the prince's encampment, the two women crave intimacy, and their insatiable greed overcomes any fear of discovery. Surrounded by sweat and filth, their passion ignites a searing heat that scorches their hearts, minds and bodies. The seamstress, known as Red Riding Hood in her childhood, and her princess relish each moment not knowing if they will ever meet again.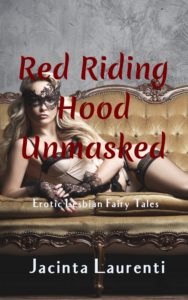 https://www.amazon.com/dp/B06XRJQCKH/
Erotic Lesbian Fairy Tales Vol. 18
A masquerade ball. A highway robbery. A raging war. Three women­–a princess, a countess and a seamstress­­–in the midst of conflict hide and disguise their emotions until confronted.
Whether in a magical realm, fleeing a lover's irate husband or in an enemy encampment, the women forge their way–and have their wicked way with an enchantress and royals alike–as their insatiable hunger leads to delectable steamy highs and overwhelming terrifying lows. But as they charm their way into their lover's beds, one question remains, who are they hiding from? Themselves or someone else?
The books in this bundle are:
Goldilocks Unmasked
Gretel Unmasked
Red Riding Hood Unmasked