This is a very exciting!
My book, Rapunzel's Afternoon Pleasure, is featured in a multi-author bundle titled Never Enough: Volume 2: Gay Erotica Collection presented by The Naughty List.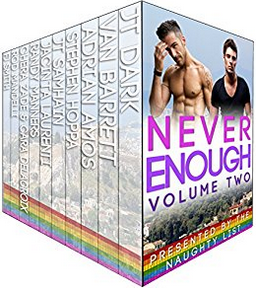 You always want more. It's Never Enough.
That's ok. We feel you. Join us with this hotter-than-hell, 10 book gay erotica collection from The Naughty List.
Ten bestselling or up-and-coming authors will show you the way with smoldering stories packed full of man on man action and lesbian tales featuring women pleasuring each other in ways that will make your mind twist and your heart pound like you wouldn't believe.
There's more than 85,000 words to keep you busy, but we'll get started on the next volume right now anyway because, we know…there's Never Enough.
The bundle is available here https://www.amzn.com/B01LXDYHBL for 99c or free with Kindle Unlimited.
Featuring:
Chamber of Endurance
(Book One: Seduction)
By J.T. Dark
Bad Roommate
By Van Barrett
Conquered by My Sorority Rival
By Adrian Amos
Double Teamed by the Bull Riders
By Stephen Hoppa
On Your Knees
By J.T. Samhain
Rapunzel's Afternoon Pleasure
By Jacinta Laurenti
Shared with the Neighbors
By Randy Manners
The Stable Hand's Submission
By Chera Zade & Cara Delacroix
A Patrick on a Bear's Knee
By Rod Mandelli
Initiated on Video
(Book One: Claimed)
By F.J. Smith