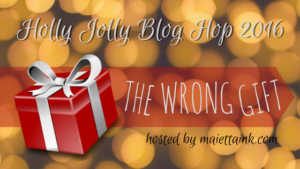 I'll be joining seven other authors and participating in a blog hop based around 'The Wrong Gift' theme from Dec 21. My story is titled Rapunzel Unadorned and here is a teaser.
The scrawled message Princess Rapunzel holds contains secret information, but not about a possible invasion, or a conspiracy. Instead, it is regarding a Yuletide gift. The scribbled words read the present needs to be 'sweet and delicious and make my teeth ache and my body sizzle'.
But Rapunzel is puzzled. What gift will fulfill the requirements and satisfy her lover, Gisela? The two lovers meet infrequently in the long-deserted tower, and this is their last rendezvous before Yuletide. The princess has little time to prepare, but with the help of her chambermaid, she stumbles upon the perfect solution. But a misunderstanding puts Rapunzel in a quandary. Will Gisela be captivated or bored by the gift? And will the princess be able to escape a very sticky situation?
Please come back on Dec 14 when I'll have more information about the authors and links to their stories.